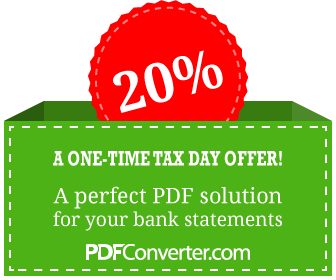 The tax season is wrapping up and some of you may have already finished your taxes–and some of you may have yet to even start on them.
Whether you are an accounting professional or a tax preparer, you're probably buried in bank statements, tax invoices, and tax return papers. We know how daunting it can be to manage your documents, especially if you need to edit a bank statement or a tax form and they're locked in PDF.
As a way of helping you out, we're offering a 20% discount on our flagship product, PDF Converter Elite 4!
How does it fit in to help with your tax preparation tasks?
It can help you edit a PDF document, secure your documents, personalize your PDF tables or extract only the specific data from a document.
Some of its features include:
PDF to Excel custom conversion
Scanned PDF conversion
Secure PDF creation
It doesn't happen very often that we have discounts like this, so don't hesitate to take advantage of it! Cash in on our limited time offer and ease the burden of financial paperwork every year during tax season.
You can use our 20% discount from Monday, April 11th to Friday April 15th.