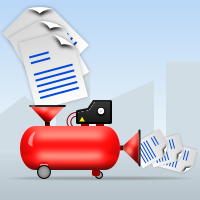 When sending a large document via email, there are some obvious problems right off the bat. The maximum size allowed for attachments depends on the email client. Gmail, Hotmail, Yahoo and others all have different maximum email attachment sizes. What you need to do to send a large file depends on the email client you use.
When working with PDF files, Excel spreadsheets and Powerpoint presentations you may have to cut corners with some of the multimedia parts of the file. Finding some smaller and lossless data compression versions of pictures and other multimedia is a great way to get the file smaller. The smaller the initial file, the easier it will be when it comes to cutting up the last compressed file. Reducing the quality of music to low rate MP3 files, using TIFF or lossless JPEG formats for photos and using low quality animations in PowerPoint presentations are great ways to shrink the size of your files.
The rule of thumb is that if your file is 20mb or less then there is nothing extra that needs to be done. You can send the file as is or compress it into a .zip or a .rar file if you need to. Most email clients have a set limit of 20mb; anything above that needs to be compressed and/or split up into different parts.
Compressing files is a great way to get the file size down; the larger the file the more compression that can be done. But sometimes there needs to be more than simply compression, sometimes splitting up the.zip or.rar file is easier but requires sending multiple emails depending on the size of the file.
By splitting the file up into parts, such as PPPresentation.part01, PPPresentation.part02, etc. you can then send the individual parts in separate emails. This is accomplished by having a paid copy of a file compressor, such as WinRAR  or  WinZIP. The full versions of these programs have a special feature built into them that allows you to split up a single .rar, .zip or any other compression format file. They have multiple options to get the right number of parts to the file size ratio correct. There are pre-made and custom options available depending on which compression software you purchase.
When selecting a compression piece of software, consider the industry standard for the past several years, WinRAR. WinRAR has a lot of options and features, and works with nearly every different archive and compression file format. WinRAR comes with an unlimited free trial for 40 days, after that, you will have to buy the program for a one-time fee and get lifetime updates. WinRAR works great for those who are working with large files and projects; it can compress files better than the competition. It's been at the top of every best of year-end list for several years and continues to improve with every update.
Compression and archiving are two of the easiest ways to reduce the size of email attachments.
About the Author
Eric Demps is a professional freelance writer and contributor to DegreeJungle.com. He has worked with clients from different fields including technology, education, health, and business and entrepreneurship.