Index
What are ebooks?
Ebooks continue to grow in popularity as they become less expensive and people continue to look for the most convenient ways to read books.
If you don't know anything about ebooks, this article is a good place to learn the basics.
Also known as an e-book or digital book, an electronic book is a text and image-based publication in digital form that can be read on computers and other digital devices.
Wikipedia refers to an electronic book as a "book-length publication in digital form, consisting of text, images, or both, and produced on, published through, and readable on computers or other electronic devices."
According to the Oxford Dictionary of English, it is "an electronic version of a printed book." However, that definition is not entirely correct, since there are ebooks that have not been published as regular printed books previously.
Even though ebooks can be read on regular computers and cell phones, they are usually read on hardware devices that are known as e-book readers. Ebook readers are popular because they give users more options when reading – options that mimic the experience of reading a physical paper book. When reading on a reader, users are able to perform actions like make notes, highlight text passages and bookmark pages. The e-readers usually have other great features like built-in dictionaries and options for changing font sizes and styles, which also can add to a person's reading experience.
Ebooks are usually sold online as downloadable files instead of in some type of physical, tangible form like paper.
The most common formats used for creating and distributing ebooks are PDF and HTML.
What is PDF?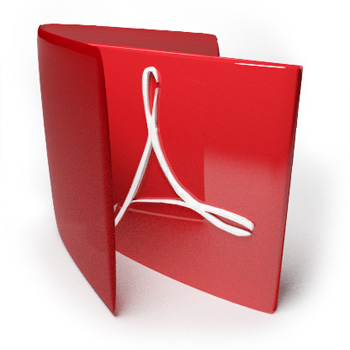 PDF stands for Portable Document Format, and it is a file format that was developed by Adobe Systems. The whole idea behind PDF was to represent documents in a way that is independent of the environment in which it was created and of the output machine on which it will be displayed or printed. The main purpose of the format was to enable users to easily view and exchange the documents regardless of the application software, hardware or operating system that was used to create documents.
Thanks to its main features and numerous advantages, PDF has become one of the most used formats for sending, downloading and uploading files over the Internet.
Opening and viewing PDF files require specialized software. Adobe Systems' Acrobat and Reader are the most widely used programs for presenting and using PDFs, but there are many alternatives on the market as well, though none are as popular as these that were created by Adobe.
With the emergence of PDF converter software, PDF documents received yet another boost in popularity. Thanks to these software applications and online converters, users can convert PDF files to other file types (most commonly MS Office file types), and then back into PDF.
Another important characteristic of PDFs is that they are formatted more like books than web pages, which means that the documents will look the same whether they are printed or on the computer screen. Additionally, they are uniform and will always look the same, no matter what computer you are using, what printer you are printing them on and what software you used to create the PDFs.
PDFs are derived from PostScript, though they do not contain language features such as loops. The fact that they are so easily and uniformly seen and printed regardless of platform makes them ideal for use on the Internet. That is why PDFs are used when creating many different types of files, such as brochures, magazine articles, manuals and books.
Advantages of PDF
PDF documents are readable on all platforms. PDFs can be opened and read on any platform – MAC, Windows, Linux OS or Android. The format is also device and resolution independent.
PDF documents are uniform. Not only can PDFs be opened on any computer and any operating system, they also always look the same. With PDF, document creators can rest assured that other users of their documents will view them across different operating systems and machines without any changes in the look or formatting.
PDFs are easily and quickly created. There are many PDF creators on the software market today. The best part is that many PDF creation software tools are fully free. PDF creators are usually categorized as desktop and web applications. At PDFConverter.com, we provide both free online converter to PDF and the FreePDF Creator that users can freely download and install on their personal computers.
Users who use Microsoft Office suite can create PDF files directly from Word, Excel, PowerPoint or Publisher. Google Docs can also be used for turning documents into PDF format.
PDF is an open standard, which means that anyone can write applications that are used for reading and writing PDFs without having to pay any royalties.
PDF files are incredibly versatile. PDF can include any possible combination of text, graphics, images, and even animations, sound and video. Users can get really creative when creating documents and include as much information, details and multimedia as they want or need to. PDFs are also searchable and easily navigated. This is especially useful in the case of ebooks and other long documents that consist of hundreds of pages and info.
PDF documents can be of any size. PDFs can be huge and contain thousands of pages and a plethora of images and colors. On the other hand, they can be simple, single-page, text-based documents. And no matter how large or complex they are, you will be able to open and read them with any PDF reader and see exactly what the creator of the content intended for you to see.
PDF documents are accessible. PDF viewers, such as Adobe Reader, are free. PDF file can be viewed not only in a PDF reader, but also in about any web browser. This feature renders PDF documents even more accessible.
PDF documents are secure. PDFs can be protected via passwords, encryptions or stamping, which is yet another advantage of the format – especially for those who want to avoid having their ebooks pirated.
The security features that come with the format are excellent, and with them, you can make sure that only the people who are intended to see your document will be able to do so. This, of course, is a very important feature for many people – especially those who work with a lot of legal documentation or those who send research and sensitive material to others via the Internet. You can secure your PDFs in various ways. Additional bonus is that your PDF cannot be infected with a virus after it has been created and secured.
PDF offers great functionalities for zooming, printing and scaling. One advantage that PDF has over other formats, especially a format like HTML, is that the zooming process is far more sophisticated. When you enlarge a PDF, you are seeing a zoomed in image of the text, but all of the spacing between words and letters and the entire original layout remains intact. That is, among many other reasons, why PDF is the go-to format for page-oriented documents. The quality of the viewing experience will depend on the quality and size of embedded images.
PDFs are optimally sized. Another big reason for the popularity of PDFs is the size. When a PDF is created, the image is being maximized and significantly compressed. But the best part about it is that no quality is being lost. When you convert an electronic document of any other format to PDF, you are compressing the document to 25 percent of its original size, leaving the quality of the document intact.
PDFs can be converted to editable documents. Even though it sounds illogical and contrary to the nature of PDF at first, the emergence of PDF converter software makes PDF documents highly editable. In most cases it doesn't mean that you can edit the PDF itself just like you would edit the documents in text processor or programs for creating spreadsheets or presentations. But, PDF converters enable users to turn PDFs into highly editable formats like Microsoft Office document formats. As a matter of fact, available are even tools that can convert PDF to speech, so users can listen to them instead of reading.
Besides, there are PDF solutions that enable users to edit PDFs themselves to some extent. For example, merge two, ten and more PDFs into one file, split a file into more than separate documents, add bookmarks, delete and insert pages, crop pages, and much more, depending on the PDF converter the user chooses.
Again, there are free and paid tools for converting PDFs to other formats, as well as online and desktop solutions. Paid solutions are usually more robust, professional and powerful than free tools. However, there are very good free online tools for converting PDFs to other formats. For example, you can use our PDF converter online tools for changing PDFs to Word, Excel, PowerPoint, merging and splitting PDFs and more.
It is also important to note that the owner and creator of the PDF file can entirely disallow editing of the document. As mentioned before, PDFs are secure and creators can easily control how others view or use their documents. You can not only disallow editing of the PDF file, but also viewing.
With all these great features in mind, it is then no surprise that the PDF is one of the most used formats for uploading, downloading and sharing all types of document files online.
Comparison between PDF and HTML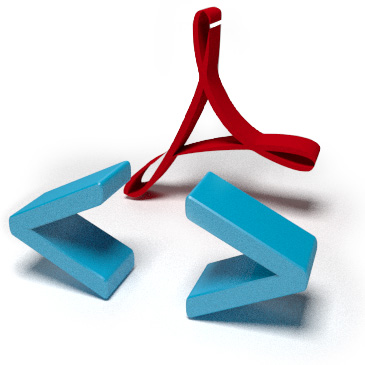 One thing that PDF and HTML formats have in common is that they are formats that are most commonly used online. Essentially, according to Wikipedia, HyperText Markup Language (HTML) is the main markup language for displaying web pages and other information that can be displayed in a web browser. Plainly speaking, webpage creators use HTML to describe the content they want to put on the web. In order to do that, they use HTML tags and create HTML documents. The web browsers read HTML and show their own interpretation of the HTML document on the screen. This means that when using HTML, you are not guaranteed that what you create will look the same in every single browser. It is a format that allows the created content to be shown according to the preferences of the viewer, not the preferences of the person who has created the content. PDF works in the opposite way.
So if you are creating content that you intend to share, and want to strictly define the content and its appearance, you are going to choose working in the PDF format over working in HTML to get your idea and content across precisely. There are ways to ensure that your content is unchanged in various browsers when you are using HTML, but you would be limiting what the user could do with the content as a result. For example, you can use a raster graphics image to present the text of your content, but if you do that, the viewer will not be able to select the text and use it for something else. Also, when you are creating everything with image files instead of text, you are increasing the file size as well and making a bulkier product.
PDF, eBook Readers and Mobile Phones
PDF files are supported on many e-book readers, like Amazon Kindle, iPad, Sony Reader, Barnes & Noble Nook, PocketBook Reader, Kobo eReader, Bookeen Cybook, etc.
PDF files are supported and readable on smartphones and some more basic mobile phones. Users are offered many alternatives for viewing PDFs on their tablets and cell phones, but the industry standard is still the Adobe Reader mobile app. Adobe Reader is available for iPad, iPhone, iPod Touch, Android and Symbian devices.
Popular Ebook formats
PDF is one of the most popular formats for ebooks, but there are many more. Here is a rundown of some of the most commonly used ebook formats.
AZW stands for Amazon Whispernet. AZW format is only compatible with the Amazon Kindle and Kindle related software for PCs and smartphones. The Amazon Kindle is one of the best-known and most popular ebook readers on the market. The good thing about the AZW files is that they are not protected, which means that you can change them as well in order to read them on different devices. For example, you can rename the files with .prc or .mobi extensions so that you can read the files on your PC or other mobile devices.
TPZ is another Amazon format for Kindle services that is called Topaz. The difference between TPZ and AZW is that TPZ can have embedded fonts in the file itself. The internal format of the TPZ file is very much related to the standard AZW format, although a different compression is used so that the embedded fonts can be displayed. TPZ is able to display fonts and characters that are not typically used or displayed on the Amazon Kindle.
AZW1 is simply an eBook in the Topaz (TPZ) format that has been delivered via Whispernet.
TXT is associated with the simpler word processing programs like Notepad or WordPad. Anyone who is familiar with any type of word processing program is probably already familiar with this file type. The equivalent of TXT for Macintosh users is TEXT.
MOBI is most commonly associated with the Amazon Mobipocket reader. It is a binary format that is used very commonly in the distribution of ebooks. The format is based on the open ebook standard and uses XHTML, which means that it can include JavaScript and frames.
PRC is a 3D file format that is usually used to embed 3D data into a PDF. PRC is usually associated with Corel Presentation. It is a very compressed format that allows easier and better storage of 3D models, which are bulky on their own.
HTML is acronym for HyperText Markup Language. Ebook formats that are in HTML are pretty much designed as a regular website pages. The best thing about pages that are created like webpages is that you can navigate them by clicking through hyperlinks. This gives you the ability to link an unlimited number of pages. If someone knows how to work with HTML and has a lot of ideas and a great imagination, the possibilities are limitless.
DOC is chiefly associated with Microsoft Word, one of the most popular word processors today. DOC files are a little more involved than TXT files. It means that they can include more details and information. You can put text, images, hyperlinks, and other information into DOCs, whereas you can only use text in TXT files.
EPUB is short for electronic publication. ePuB is a free and open ebook standard provided by the International Digital Publishing Forum. One of the main advantages of this file format is the ability to work with familiar technologies such as XML, XHTML and CSS.
WOLF is recognizable by its .wol extension. This format is not widely used in the Western world. In fact, there are no English commercial sources for ebooks that come in this format. However, it is very popular in China and e-books in this format are available through various retailers.
ARG format is developed by the French company Arghos Diffusion. This format is XML-based. It is only readable with an Arghos Player.
DJVU format is mainly developed to store scanned documents, particularly documents containing a combination of text, photographs and line drawings. Technologies that it uses allow for storing high-quality, readable images in a minimum of space, so that they can be easily presented on the web. DjVu has been touted as an alternative to PDF, promising to produce smaller files for most scanned documents than PDF. The DjVu format can include an OCR text layer, just like PDF, which makes it easy to perform a text search, copy and paste operations. Even though it hasn't really jeopardized the popularity of PDF as an ebook format, it is nevertheless used today, especially in Russia.
CHM is a Microsoft proprietary format based on HTML. The CHM files format enables you to distribute multiple pages and embedded graphics as a single compressed file. The format is most often used for software documentation.
FB2 is one of the more popular XML-based eBook formats and it is supported by many free readers, among them STDU Viewer, Haali Reader and FBReader. FB2 documents are very straightforward and resemble HTML.
OPF is yet another XML-based format commonly used in online flipbooks. The FlipBook format is a 3D interface that tries to simulate the experience of reading a physical book and flipping through the pages. The FlipBook format can house a variety of multimedia content, such as video, audio and even animations.
This is by no means a complete list of available eBook formats. You can easily come across a book in a format that is not listed here. For a more comprehensive list of book formats, please visit this entry in MobileRead Wiki.
Free eBook Format Converters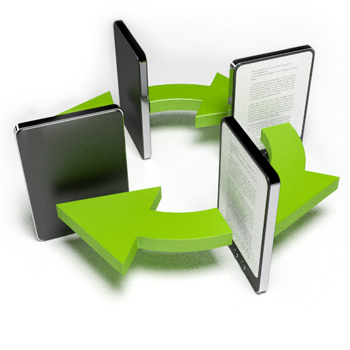 Chances are that every book lover or addict or, simply said, bookworm, has her or his own favorite eBook reader. As there are many eBook readers and subsequently many formats, it happens more often than not that everyone comes across and wants to read a book in a format incompatible with the chosen eBook reader. There are many legally free eBooks available on the Internet that can be downloaded. But they pretty often come in a format that either doesn't look very good on your reader or isn't compatible with your reader at all. Straining your eyes or abandoning the book altogether aren't the only options. Thankfully, there are many applications for converting between different e-book formats. eBook conversion utilities come as commercial and free applications. Some are even open-source. Find below the best and most popular eBook converters for Windows, Linux and Macintosh.
Calibre is a free, open-source desktop software for Windows, Macintosh and Linux operating systems. It is a very powerful tool for complete eBook management which includes an eBook Reader, conversion tool, device sync features, and more. Its conversion tool can convert from AZW, PDF, MOBI, RTF, HTML, FB2, ePUB, TXT and 18 more formats. Conversion out formats can be EPUB, LIT, MOBI, PDF, LRF FB2, PDB, PMLZ, RB, TCR, TXT. Actually, with Calibre, users can even convert full websites to electronic books.
Epubor Ultimate is an ebook converter that converts ebooks from all popular retailers. It can convert EPUB, PDF, AZW, AZW1, AZW3, AZW4, Mobi, PRC, TPZ, Topaz, TXT and HTML file formats to EPUB, Mobi and PDF. This tool is available free for 30 days.
Auto Kindle eBook Converter is a free Windows-only utility for converting PDF, HTML, LIT, PDB, and CHM formats to a Kindle-friendly MOBI.
Instapaper is primarily a service that allows users to save web pages for reading later when they have time. But, Instapaper is also a simple and great way to convert web-pages into eBooks. It creates MOBI and ePUB files, so you can easily read books on Amazon Kindle and other eBook readers.
GrabMyBooks is a Firefox addon that allows you to literally grab content from the Web and easily turn it into an EPUB or MOBI file. This plugin lets you select manually or automatically the content to extract from the web or from rss/atom feeds. You can also edit and visualize your ebook before transferring it to your e-reader.
eBooks and DRM
DRM stands for "Digital Rights Management". DRM is a system of solutions designed as a means for controlling the unauthorized duplication and illegal distribution of copyrighted digital media.
DRM technology was created for the publishers of digital works as a means to stop the illegal reproduction and distribution of their products.
DRM technology enforces a restriction on the user in terms of what the user is able to do with that particular file. In many countries, removing the DRM from an eBook is considered to be illegal. Of course, these restrictions have a lot to do with copyright and the illegal copying or distribution of copyrighted material without the permission of the author. In America, the DMCA act prohibits DRM removal. The Digital Millennium Copyright Act (DMCA) is a United States copyright law that implements two 1996 treaties of the World Intellectual Property Organization (WIPO).
DRM is actually not a new idea. DRM technology was first introduced back in the late 1990s, but it didn't really click with consumers at that time, because the software was far too complicated for the average person.
Since that time, software providers have designed a number of DRM tools. Some have had more success than others. DRM technology continues to evolve today and DRM tools that will protect eBook's effectively are yet to be developed.
The US has introduced several laws on both state and federal levels that deal with DRM technology and call for this technology to be installed on all computer systems and have the technology control the distribution of all digital media.
Privacy and the intellectual property protection are huge issues today, which is why DRM technology has both a lot of supporters and a lot of opponents.
Many people believe that using DRM means more book sales, because there will be fewer pirated copies, but many believe the opposite.
One argument is that bestselling works are less affected by piracy than not so popular and well sold ones. At the same time, it is well known that unestablished or commercially unpopular authors sometimes support piracy because it means that more people will be exposed to their work.
The discussions of the benefits and shortcomings of DRM will continue, just as they continue when discussing any other forms of piracy prevention.
Advantages of Ebooks over Paper Books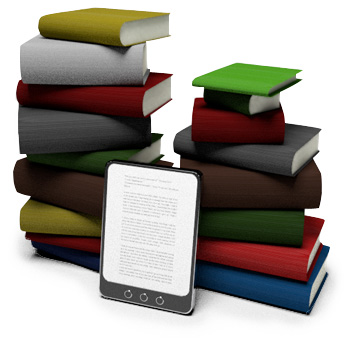 It is no secret that technology has changed the way we work, communicate, collaborate and even spend our free time. It has also enabled us to change the way we read. Many book lovers have embraced this new phenomenon called electronic book. It is no wonder as e-books have a long list of advantages over traditional physical, paper books. The most notable advantages are the following:
Ebooks are instantly downloadable. You can quickly buy and download the book that has awakened your interest only minutes ago. No need to go to the bookstore or waiting for it to be delivered in your mailbooks even days after you bought it.
An average ebook, one with 200 pages, is 300kb. Therefore you can store thousands on a 32 GB memory card.
Free downloadable upgrades are offered by some suppliers. Electronic books can help you to save money on the new editions of textbooks, user and professional manuals, or any other writing that you would otherwise need to buy an upgrade to use.
Ebooks help to conserve paper and environment. Is there really a better reason to give e-books a try?
They take up no physical space. Having a huge, rich library with thousands of books doesn't mean anymore that you must have a huge house, with lots of free space to accommodate your books.
They are more portable and you can have your entire library on finger tips at all times.
They can include links for easy access to additional information and related websites.
They are searchable. You can easily search for any piece of information or sections that you want to read again without having to skim through every page of the book.
They can be interactive and contain audio, video and animations, which can enhance the message that the author is trying to convey.
There are no postage expenses involved when ordering them online.
They can be printed if you really miss the feel of words on actual paper when reading.
Text size in ebooks can be resized to fit your needs. When your eyes get tired and you start feeling the eyestrain, but still have some reading to do, you can easily enlarge the size of the text.
It is possible to turn some of ebooks into audiobooks with the right software.
They are easier to publish, sell and distribute if you are an author or publisher yourself.
Places to Read and Download Free Ebooks
The most amazing and awesome thing about electronic books is that there are many websites on the Internet where you can find legally free eBooks to read online or download for free. Here is the list of some of the best eBook sources on the Internet:
Project Gutenberg is one of the greatest places for downloading free ebooks. Gutenberg offers well over 39,000 free electronic books. It is the first and largest collection of free eBooks. Users can download or read books online. Besides that, Gutenberg provides access to over 100,000 free electronic books through their partner and affiliate network.
Actually, today we can thank the founder of Project Gutenberg, Michael Hart, for the invention of electronic books back in 1971. He started and based the project Gutenberg on premise that "anything that can be entered into computer can be reproduced indefinitely". It basically means that if you enter a book into computer just once, this book will be available in any number of copies and anyone in the world can have a copy of it.
ManyBooks is one of the world's best known ebook websites with 22,000 books for free download in over 20 different formats. There are over 29,000 electronic books available for most eReaders, such as Amazon Kindle, Nook, and iPad. Many Books is very well organized and enables users to browse books by titles, authors, genres and languages. Besides offering free books, Many Books also displays visitor recommendations and reviews.
BookYards is a web portal aspiring to be the "The Library to the World". It has thousands of free ebooks and other reading materials along with access to various online libraries. They link out and connect you to over 32,000 ebook sites and resources. Ebooks can be searched by categories, author last name or by title.
AllBooksFree gives away free fiction novels, children's books, poetry books and short story collections. Provided books are generally downloadable as PDF files.
OnlineProgrammingBooks is a place where you can read legally free computer and programming books online or download them in PDF format. The site features and regularly publishes information about free computer books, e-books and online books related to IT, Internet, Computer Science, Engineering, Physics, Mathematics, but also Business and Marketing.
FreeComputerBooks contains a huge collection of free online computer, programming, mathematics, engineering, and technical books, lecture notes and tutorials. The e-books are categorized by topics, with 12 top-level categories, and over 150 subcategories.
FreeTechBooks lists free online computer science, engineering and programming books, ebooks, texts, textbooks, lecture notes, documentations and references.
GenealogySearch offers for download historical and genealogy books from around the world.
GetFreeEbooks features a nice selection of several hundred books that are freely downloadable. The books on this website are organized into categories.
ByGosh offers a very cool assortment of illustrated children's books and short stories.
BucaroTecHelp offers free business books in PDF. The resources offered on this site are especially helpful for users who want to learn more about the ways to monetize their websites and profit from online ventures. In order to download free books, users need to register first.
GrtBooks offers an excellent collection of free ebooks, mostly classics and works by well-known authors.
Free-eBooks offers unlimited ebook downloads of books ranging in categories. It is also possible to subscribe to the site's RSS feeds to get updates about new ebooks being added to the site.
BestScienceFictionStories offers a large collection of short stories. It includes classic and newer stories as well.
LibraryofCongress has a great collection of classic children's books and many others. It also has a great rare books section.
The Online Books Page provides access to books that can be read online free of charge. The site lists over 35,000 free books available online.
2020k is a directory of free online books and ebooks. Available ebooks are divided into categories and subcategories for easy browsing.
BooksInMyPhone is a good place to search for classics that can be read on mobile phones.
BusinessBookMall offers a good collection of business-related ebooks for free download, mostly in PDF. Anyone looking for business textbooks will find this site handy.
LibertyLibraryofConstitutionalClassics – offers a huge catalog of classic works on law. This is a go-to resource for law students.
BookBoon is great if you are looking for free textbooks, travel guides and business ebooks in PDF.
Baen Free Library offers both free ebook downloads and online reading.
NewFreeBooks is a good resource to get ebooks that are under copyright but offered for free, usually by the authors themselves.
World Public Library is the world's largest digital archive of PDF ebooks and other e-documents. Registration is required to download books and to get access to their entire collection.