In most cases, PDF files contain a large amount of redundant pages, pages which are useless and only add to the PDF bloat. You can have 400 pages in your PDF, yet need to work with only 30 of them. For the general user, this bloat and extra pages are a nuisance.
Not to mention that the more pages you have, the bigger your file is. If you want to send a PDF file to someone, to upload it on a website or to free some memory on your computer, you can consider removing unnecessary pages from your files.
Thanks to PDF tools that are becoming more versatile, there are options you can try to make big changes to your PDF file size and content. You can, for instance, delete a page or a group of pages from a PDF file with PDF Converter. Before we show you how to do it, let's see what are the benefits of removing pages from a PDF:
It is easier to deal with smaller PDF files
Data analysis is quicker and more efficient
More memory on your computer, mobile device or USB
It saves the environment! When you need to print a PDF, remove unnecessary pages to save some paper
How to Delete Pages from PDF with PDF Converter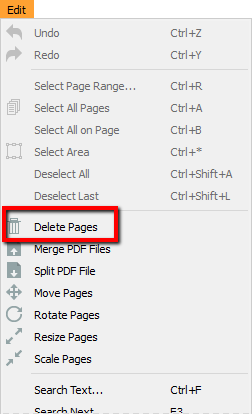 How to Remove Pages from PDF but Still Keep Them
There is a way to delete some parts of the pages in a PDF document, in situations when you don't want to get rid of the whole page. To do that you need to start PDF Converter and open a PDF.
Again go to Edit toolbar and instead on choosing Delete Pages, click on Delete button in the Text section.
Now click on area of the PDF page to remove the parts that you don't need anymore. The downside of this solution is that your document may have empty space but if you want to print a document, this can be a way to save some printing ink, by deleting unnecessary parts.