When manipulating PDF content, you need to be efficient. This is especially true when transferring content from one PDF to another or when the data you want to analyze is placed in multiple PDF files. There are times when you simply need to stitch content from two PDF files together. While your first instinct is to extract your information and then recreate another PDF file, it is not the best time saver.
In applications like MS Word, it is only a matter of simply copying and pasting content from one Word file into another. Yet dealing with the hard-to-edit PDF format calls for a much more sophisticated solution. It requires that you merge your PDF files or in other words to combine PDFs.
In PDF Converter Elite 5, you can easily merge multiple PDF files together into a single PDF document. You can use that function to merge two or more already existing PDF files or the specific pages of those files.
To Merge PDF Files with PDF Converter Elite:
Merge PDF Certain Pages Only
As explained above, you can combine two PDFs with PDF Converter Elite. If you don't want to merge the whole documents, you can merge certain pages only. Here's how to do that:
First, open a PDF, click on Edit button and on Merge PDF files. Then open another PDF file.
If you want to merge consecutive pages, simply enter the numbers in the First Page and the Last Page fields. Before Page options means that you can decide where these pages from the first file you opened will be merged with other PDF file (the second file you opened). You can specify the page number or to merge PDF pages from the first file at the end of the second file. Finally, click on Merge button.
Merge PDF with Preview
When you finish all the steps above, and after you click on the Merge button, you will see the preview of your merged file on the left side of the program. The left sidebar in PDF Converter Elite is called "Thumbnails" and there you can view all pages that are combined into one document.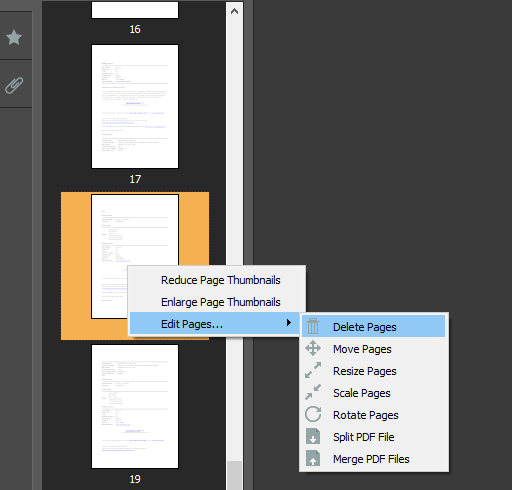 If you want to delete one of the pages, click on it with the right mouse button and from the Edit Pages drop-down menu choose Delete Pages. You can also rotate a page or move it to another place and change page order in the document. Finally, when you finish all the changes, click on X button to close the document and you will be asked to save the changes.
Merge PDF and Doc Files
Unfortunately, you cannot merge PDF and doc files because it is not the same file format. However, you can convert doc file to PDF and then merge two PDFs. There are different ways to save doc file as PDF, no matter what version it is .doc or .docx. Even if you use OpenOffice Writer, you can save doc file as PDF.
Go to File menu and then Save as. Choose the location where you want to save the file, check out the name field if you want to rename the file. In the list of file formats, choose PDF. There you go, your doc file is saved as PDF and now you can merge two PDFs and combine them into one document.
How to Merge JPEGs into One PDF
If you have multiple JPEG files that you want to merge into one PDF file, here's what you need to do.
First save every JPEG file as PDF. From the File menu, click on Save as and choose to PDF format from the list of formats. Another way to convert JPEG to PDF is to use this online tool for PDF creation.
Once you turn all your image files into PDF, you can merge PDF files with PDF Converter Elite or with our online merge PDF tool.
Merge PDF without increasing size
When two PDFs are combined, the size of that new file will be bigger. There is no way to combine PDF files and not to increase the file size but you can compress that PDF file and shrink its size. In the end, one merged file will occupy less space on your computer than two files.
In our collection of PDF converter tools you can find all you need to merge JPGs into one PDF and to reduce the size of a merged PDF.