PDF files are commonly used for retaining the integrity of any digital content on paper. So it comes as no surprise that printing options are important, especially for complex PDF files with diverse page layouts.
Fortunately, PDF Converter Elite lets you specify how you want to print PDF format via the Print Dialog Box. Here are some tips on these options and how to print a PDF.
To Print PDF Pages in PDF Converter Elite 5:
Print PDF files with free PDF Creator
If you don't need PDF converter, but you still need to print PDF files, you can download free PDF creator on your Windows computer.  It works on all versions of Windows.
With this free PDF Creator you can convert any file to PDF.
Here are the main features:
100% free and it works offline
Unlimited use, no time limit
Create PDF from more than 300 file formats
Asian language fonts are also supported
Convert MS Office files to PDF
How to print PDF files with this free PDF creator:
1

Open the file you want to print.

2

Go to File menu and then click on Print.
From the list of printers, choose FreePDF Creator and click Print. If you need more copies of the same document, make sure you change the number of copies before you click on Print.
Depending on the file application you use, you can change different print settings. If you use MS Office, you can change these settings:
Print All Pages– this is setup by default, but you can also print only the current page or specific page numbers.
Print One Sided– is a default option, but you can also print on both sides of the paper.
Portrait Orientation– or change it to be landscape.
Letter– apart from this default page size, there are a lot of different sizes such as tabloid, ledger, statement etc.
1 Page per Sheet –  this is a default setting for scale to paper size. You can change and put two or more pages.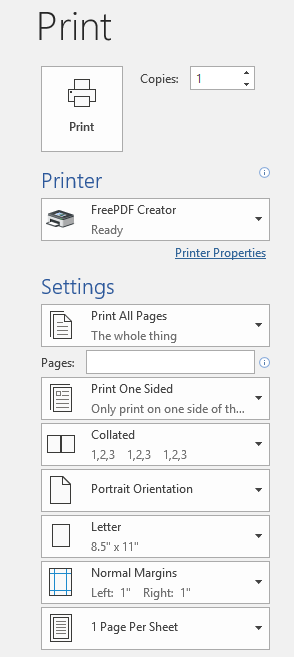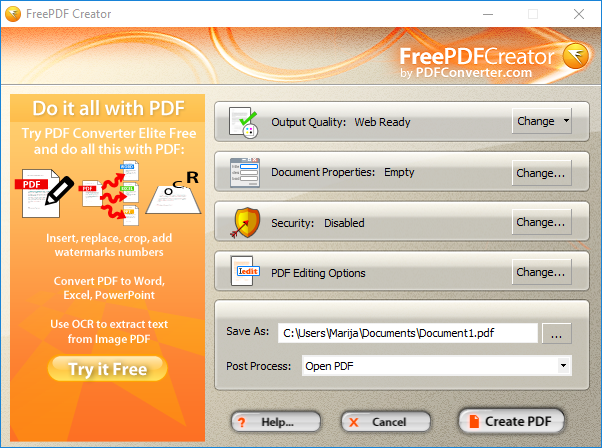 When you click on the Print button, a Free PDF Creator window will pop up with all the necessary settings.  First of all, you need to check the file location in the Save as field. If you want to change the suggested file location click on the three dots button to browse other location.
In the Output Quality, change the quality to be Print Ready. If you want to secure a PDF, click on the Change button next to Security.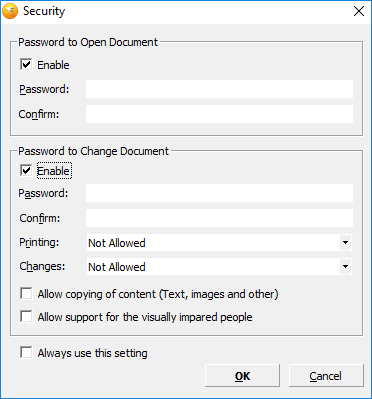 You can set up two different passwords, as shown on the image above. Check the enable box for one or both types of passwords and type the same password in both fields ("password" and "confirm"). Check the boxes with the settings you want to enable and click OK.
When you are done with all changes, click on Create PDF and your file will be printed to PDF.