Before converting a PDF document to the chosen file format, you can change specific PDF conversion options. To open the Conversions Options window click on the Convert menu and then on Conversions Options.
General tab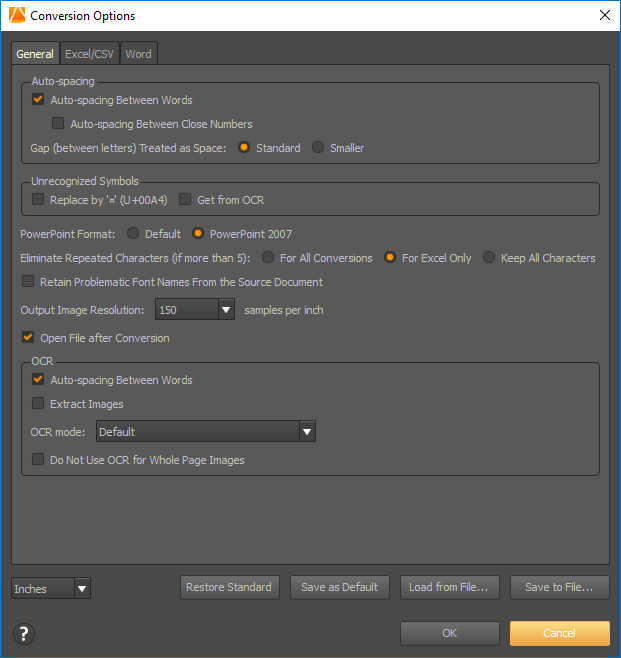 Auto-spacing option is set by default to have space between words. If you want to have spacing between close numbers, you can tick that box. You can also change the gap between words to be smaller instead of standard, which is set by default.
Unrecognized symbols is an option that can come in handy when a document contains non-standard fonts and the program doesn't recognize some characters. In that case, you can tick the Replace by "¤" (U+00A4) box and have "¤" instead of those characters. The other solution is to tick the Get From OCR which means that the program will try to pull out the exact symbol or a character from the OCR file you want to convert. If you don't tick any of those two boxes, the space will show up on instead of that unread symbol.
PowerPoint format is set up by default to be version 2007. If you have other version of MS Office on your computer, click on the Default option and you get the version of PowerPoint that you have on your computer.
Eliminate repeated characters (if more than 5) options serves when too many same characters give you troubles during conversion. Be enabling this option instead of showing all 5 or more characters, the document will show only 3. This option is set by default for Excel but you can also apply it for all conversions or you can choose to keep all characters.
Retain Problematic Font Names from the Source Document – If a document contains font that the program doesn't recognize, then the program will convert that content into the closest available font in Word. This option can be used when the program cannot find a proper replacement, so it would leave the original font name and a user can later find more appropriate font.
Output Image Resolution is the option for images that are part of the PDF you want to convert. The program converts those background images of a document in medium size, but you can change them to be smaller or larger.
The converted file opens after conversion. If you want to disable this default option, untick that box. You will find it just under the Output Image Resolution.
OCR section gives some additional settings when converting scanned PDF documents (see section Converting scanned PDF documents to see how to turn on OCR conversion):
Auto-spacing between words is set by default but you can untick that box if you want to disable it. Tick Extract Images box if you want to extract images from a document. There are three OCR modes to choose from: Default (the program will decide whether the PDF you want to convert is a native or a scanned document), Perform Image-Based Conversion (OCR) will turn on OCR conversion and No-Image Based Conversion (the program will convert a PDF as if it is a native document, even though it is scanned).
Excel/CSV Tab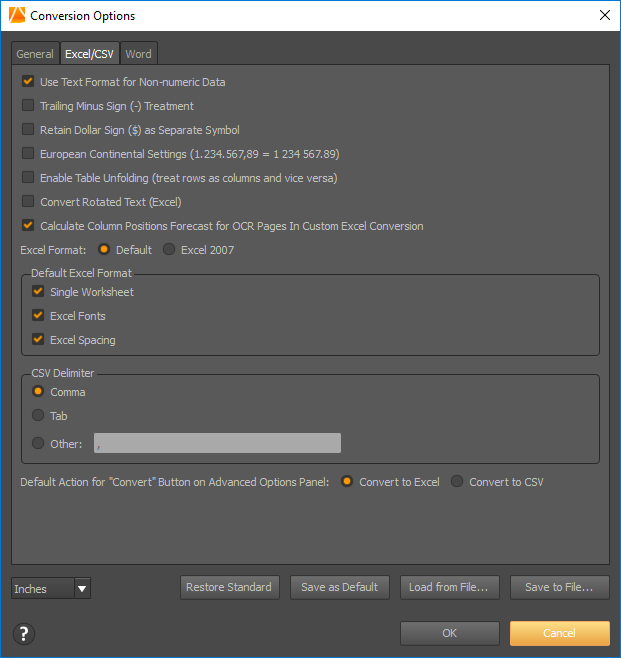 These options are set by default:
Use text format for non-numeric data – This option keep dates in text format.
Calculate column positions forecast for OCR pages in custom Excel conversion – it provides you with the column position forecast.
There are a few more boxes (options) you can tick (choose):
Trailing minus sign treatment – The sign "-" can be treated as a textual sign and it can automatically placed after the number. In that case, Excel will see the minus sign as text and there might be some miscalculations. If you want to make sure that your negative numbers are calculated properly, tick this box.
Retain dollar sign as separate symbol – If you would prefer to have distinct dollar sign in separate column, tick this box.
European continental settings – You can tick this box, if original document uses European setting, and you would like converted file to be formatted with North American format.
Enable table unfolding – With this option rows will be shown in columns and columns will be shown in rows.
Convert rotated text – If your Excel document contains cells with rotated text, tick this box so the program recognizes and converts the rotated text as well.
Excel format is set to suit the Excel version you have on your computer. If you want your conversion output to be Excel 2007, click on that option.
Default Excel Format is Single Worksheet, Excel Fonts, Excel Spacing. If a PDF has more than one page, the document will be converted to Excel into one single worksheet because that's the default setting. If you want that every page turns out as a separate sheet, untick Single Worksheet box. If you want to exclude any of these formatting options, just untick the appropriate box. If you want to use standard Excel font, untick Excel Fonts. Otherwise, the program will try to keep the original font. If you don't want to have spacing, untick the Excel Spacing box and see if the conversion result works better for you.
CSV delimiter is set to comma by default, but you can change it to tab or other. Default action for Convert button on Advanced Option Panel – With this option you can specify what output conversion file format is set up by default, when Custom Excel Template is loaded.
Default action for Convert button on Advanced Option Panel – With this option you can specify what output conversion file format is set up by default, when Custom Excel Template is loaded.
Word tab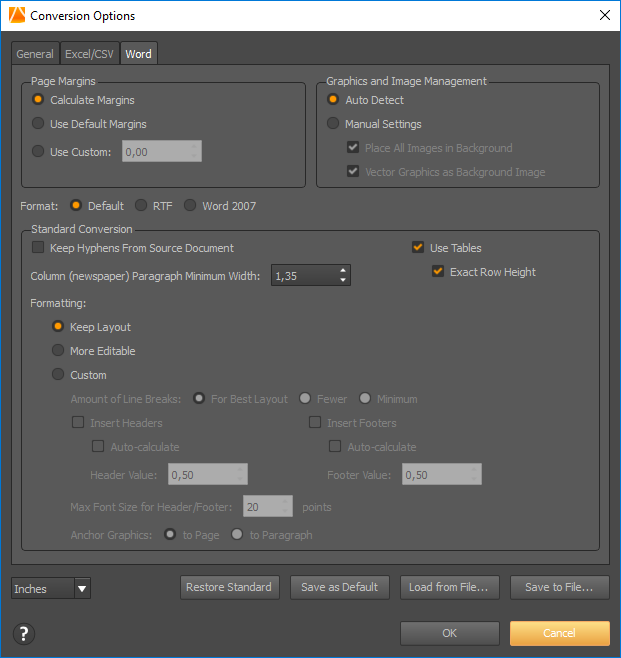 Page Margins options – You can use default margins which is 0.00 inches and make sure you get the best positional output. Use Custom margin if you need to set the margins that will be more appropriate for your printer. The Page Margin option that is set by default is Calculate Margins and it lets the program automatically calculates the most appropriate margins.
Graphics and Image Management settings – AutoDetect is a default option which enables the program detect graphics that is not supported in .doc as images. If you choose the Manual Settings, all images can be placed in background and vector graphics as background image. Both options are ticked but if you want to disable one of them, just tick the appropriate box.
Format is default which means that your conversion output will depend on Microsoft Word version you have. Otherwise you can change it to .rtf or Word 2007.
Standard Conversion options – You can keep hyphens from source document by checking that box. If you PDF document contains tables, make sure that Use Tables and Exact Row Height are checked. In that way, you will keep tables even in a .docx format. You can also set up the column newspaper minimum width to improve conversion result if your document is formatted with column paragraphs. The default width is 1.35 inches. As for formatting, you can keep layout and that option is set as default. If you choose the second formatting option, which is More editable, the program will be focused on editability more than on the layout. There is also a custom formatting option which gives you more freedom in defining settings. You can enable inserting headers or footers by ticking the appropriate boxes and furthermore you can define headers or footers values and maximum font size. Anchor graphics to page is a default option that implies that all images and graphics are anchored to the top left corner. If you choose to anchor graphics to paragraph, all the graphics will be grouped and each group will be anchored to the closet paragraph.
Restore Standard button will restore your default settings.
Save as Default button will keep the settings you've made as default.
Load from File button is used when you already have saved settings as a template and you want to use them again.
Save to File button is used when you want to save the settings you made as a template which you can later use by clicking the Load from File button.