Free PDF to PPT Converter Online
Convert PDF to Powerpoint in 3 easy steps
1Select file to convert
Choose File
Your browser doesn't have Flash, Silverlight or HTML5 support.
2Type your e-mail address
3Convert file & Send e-mail
We guarantee that your email address will never be sold, rented or given to a third party. Without any exceptions.
Interested in other conversion types? Select one below.
Types of documents mostly converted with PDF to PPT tool
Convert PDF to PPT on your desktop free for 7 days
Turn PDF presentations into editable PowerPoint slides instantly.
Rework your PDF slides and other PDFs in multiple ways: delete or move, rotate or scale, resize.
Convert PDF to Microsoft Word, Excel, CSV, Publisher, HTML, AutoCAD, Open Office.
Make PowerPoint slides out of scanned PDF documents.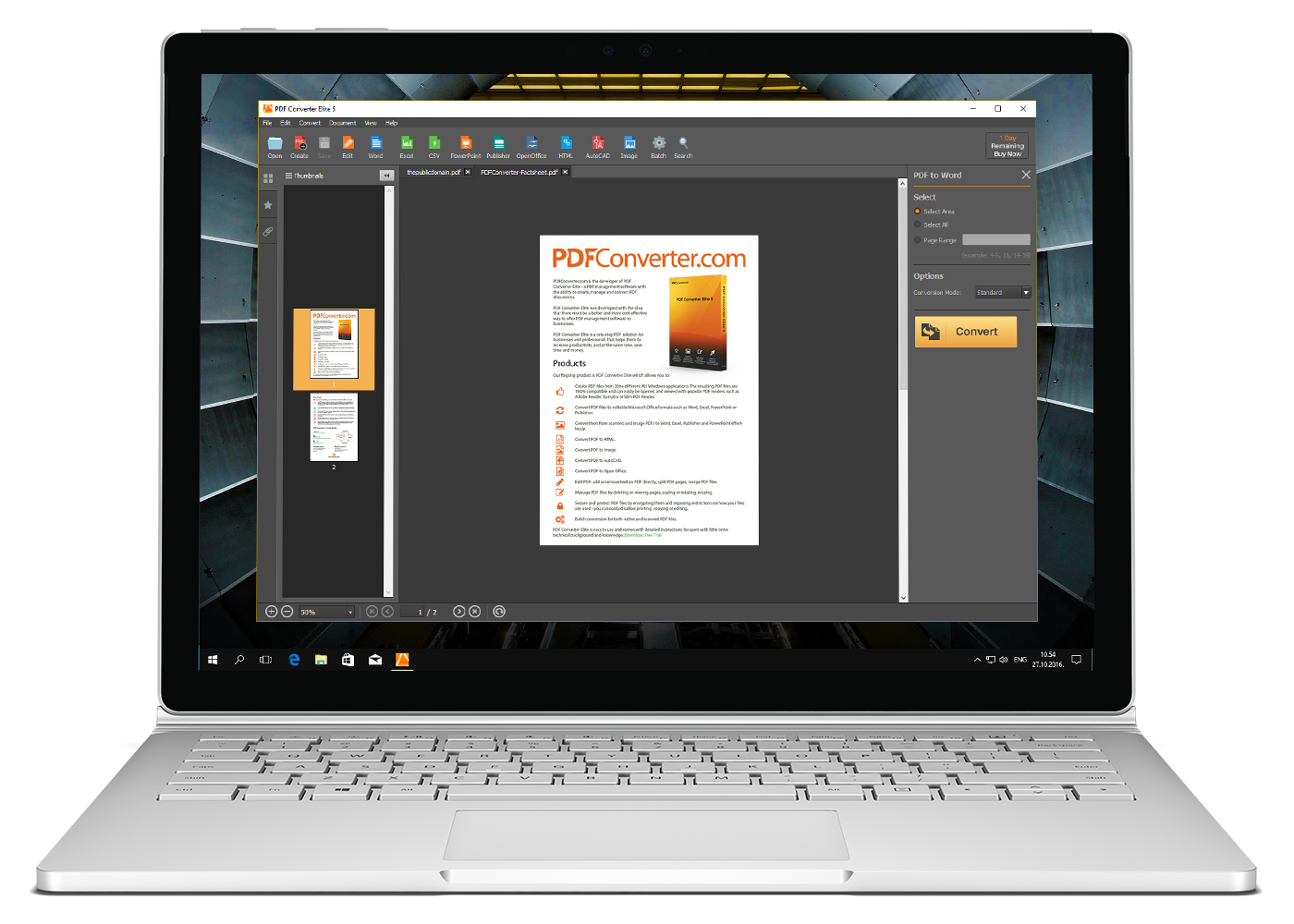 And much more...
PDF Converter Elite 5 is an advanced and comprehensive PDF conversion software. It completes the whole PDF cycle: create unsecure and secure PDF, convert PDF to editable MS Office and OpenOffice files, AutoCAD, HTML, unlock content from image and scanned documents, edit PDF, merge and split PDF.
Try FREE Now
Combine two or more presentations
With PDF Converter Elite you can merge PDF files and combine multiple presentations into one. That is particularly convenient when you want to use data from different presentations to make one, final presentation.
Convert only a portion of a document
If your PDF is too big and you don't need the whole presentation, you can select only the desired area of a PDF and convert it to PPT format. Pinpoint the document area or type the numbers of the pages you want to convert. The program converts only selected parts of a document so you will get exactly what you need.
It works with scanned PDF files as well
Don't worry! If you are dealing with scanned presentations, your data is not lost. You can convert scanned PDFs in the same manner and be satisfied with the conversion result. PDF Converter Elite uses the latest OCR technology that is to blame for extracting data from scanned files.
Save precious time - Revive PDF slides
When you use PDF Converter Elite to convert PDF to PPT, your time is saved. You can reuse and revive old PDF slides once you turn them into PowerPoint.
Split PDF slides into different parts
Before you convert a PDF to PPT, you can split your PDF into several parts. In that way you can have multiple PDF slides and convert only the slide you need.
Convert PDF to PPT but first rotate, move, delete pages
Take advantage of PCE editing options and with a single click of a button rotate, move or delete pages. When all editing is done, turn your PDF to PPT in three quick steps.
How to Use PDF Converter Elite to Convert PDF to PPT
Three steps
To perform a simple PDF to PowerPoint conversion, you just need three buttons of the program: Open (to select a PDF file), PowerPoint (to specify a conversion output), Convert (to start the conversion process).
Scanned conversion
When converting scanned PDFs to PowerPoint, you need to do the following steps before opening a PDF file. Click on the Convert menu, then on OCR options and choose to Convert using OCR. Then repeat the regular conversion steps and wait to see the results.
Other editing options
Before you convert a PDF to PPT you can get rid of unnecessary pages, by clicking on the Delete Pages button. In the same way you can rotate certain pages so your slides have a different position. Or, you can move the pages and the slides on them. All these options can be accessed via Edit menu.
Selection process
By default, the program is set up to convert the selected area. The Convert button won't be enabled unless you select the area of the document to convert. Otherwise, you can choose the Select All Pages option and the Convert button will go yellow automatically. You can also choose the third option, to convert only specific pages of a presentation. In that case, type the pages numbers separated by commas in the field next to the Page Range option.
Merge PDF files
To combine two or more presentations saved in PDF, you can use one of the editing options of PDF Converter Elite. Open the first PDF you want to work with and click on the Edit menu. On the right side you will see the Merge PDF Files button. If you want to merge the whole document, just click the Merge button because the program by default selects the whole document. To merge only certain pages of the file, specify the pages' numbers. You can merge as many files as you want.
Split PDF files
If you want to split your presentation in two or more parts, you can use split PDF option. Similar to merge, after you open a PDF and go to Edit options, you will find the Split PDF file button. Select the number of the pages and click split. The program will ask you where do you want to save that part of the presentation. By using this option you will turn your presentation into smaller presentations and you can only convert one document to PowerPoint.
If you prefer a free solution and don't want to install anything on your computer try PDF to PPT Converter Online
How to convert PDF files to PPT
Start the conversion process by uploading a PDF. Choose a desired PDF file from your computer. Enter your email address and start converting. You will receive the link to the converted file in your inbox.
Your privacy is protected
We don't keep your files and they are used only for the conversion purpose. After 24 hours all files are deleted from our servers. Not only do we protect your privacy in that way, but we also keep the servers clean which has a positive effect on the conversion speed.
It works on any device
Online PDF to PPT converter can be used on all platforms: Windows, Mac, Linux. As long as you have a decent internet connection and a browser, you can easily access the tool whether from a computer or on a mobile device. Everything is done in the cloud.