There are two ways to edit a PDF file. The most common way is to convert PDF to Word, Excel or other editable file types and change the content of your PDF document there. But if you want to have that document in PDF form, you will need to convert it to PDF again. There is a simpler and quicker way to edit a PDF file and it doesn't involve PDF conversion. Now you can learn how to add text to PDF file and save time. This is particularly convenient method when your PDF needs only small changes.
How to type on a PDF with PDF Converter Elite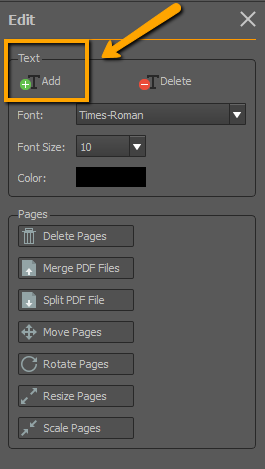 If you already have PDF Converter Elite installed on your computer, you can use it to add text to PDF without converting the file.
Upon starting the program, you can click on the Open icon and select a PDF from your computer. When you select a PDF, click the Open button and the PDF will show up in the main window of the program.
The next step is to click on the Edit button in the toolbar and a PDF will enter into editing mode. In addition to PDF merge, split, rotate and other editing options, you can choose to remove or add text to PDF file. 
When you add text, you can also adjust font style, colour and size.
To add more text into PDF, click on the Add button on the right side of the screen, and click on the exact area of the document where you want to add text.
Now type the words and press the Enter on the keyboard to confirm changes or left-click on the mouse anywhere in the document.
When you complete the changes, close the document on the x button and you will be asked to save the changes. Every time you need to type on a PDF you can open PDF again and repeat these steps.
How to Add Images to PDF
PDF Converter Elite 5 doesn't have the option to add images in the same way as adding text, but there is still a solution. First, you convert PDF to Word, Excel, PowerPoint or other file types. Then open the converted file, let's say in Word and point with the left mouse click the area where you want to add an image.
Go to Insert menu and click on the Pictures. Find an image you want to add and click on the image first and then on the Insert button.
If you want to add more than one image, just repeat the process.
Now, go to File and Print menu and from the list of printers choose PDF Converter Elite virtual printer. Print the file to PDF and you will get a PDF with added images on it.
Changing content in a document doesn't have to be a nightmare, even if a document in question is in PDF format. Now when you have learned how to write on a PDF without converting the file, you don't need to worry about it next time you forget to add something in a document.