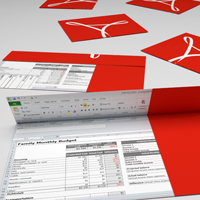 If you are a Microsoft Excel user, then you probably know that you can save your Excel spreadsheets as PDF without using any additional piece of software. This function is natively available in Microsoft Office 2007, 2010 and 2013 suite update. All you need to do is choose to save you active spreadsheet as PDF. However, creating the perfect and professionally looking PDF from a spreadsheet is not always so quick and straightforward. You've probably experienced it if you've tried to make a print ready PDF out of an extensive, data-rich spreadsheet with multiple rows, columns, charts and other graphics or data tables. You put in a lot of work into developing your spreadsheet and then when you save it as PDF, it ends up broken into multiple-page PDF without visible connection or order. Does it sound familiar?
The real reason behind this is that MS Office is using your print settings for saving Excel spreadsheets as PDF files. Since default print setting is No Scaling (meaning that sheets will be printed in their actual size), your bulky spreadsheet will be converted to PDF using this setting. Should you want to fit your spreadsheet to one page PDF, it means that you need to change your printing options to Fit Sheet on One Page before saving the spreadsheet as PDF. It's all simple, but it is usually an extra step that you need to think about and take.
How to Fit Excel Sheet on One Page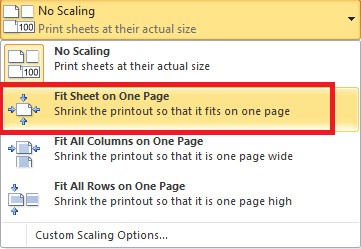 For those computer users who want to make the most of their time and accomplish routine tasks as fast as possible without sacrificing quality, there is a quick solution to fitting an Excel spreadsheet into a single page PDF. The solution's called a virtual PDF printer. One such solution is the FreePDF Creator, which is, as the name rightly implies, completely free for anyone, without any time or conversion limits. It installs itself as a virtual PDF printer which enables you to print not only Excel spreadsheets but also more than 300+ Windows file formats into professionally looking PDFs minimizing the number of steps and mouse clicks. It is free to download, install and use. For first time users, there is an easy to follow step-by-step installation and user guide.
Once you install the FreePDF Creator on your personal computer, here's how to convert Excel spreadsheet into a one page PDF (we are using Microsoft Excel 2010 for this post's purposes):
1) Choose to print your Excel spreadsheet.
2) Select FreePDF Creator from the list of available printers.
3) In printing settings, scale the paper to Fit Sheet on One Page.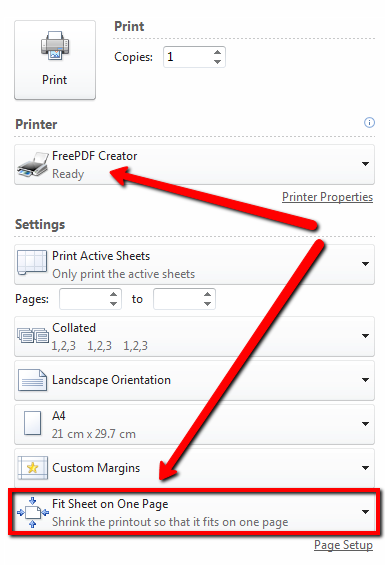 4) Click Print.
That is all there is to it – in just a few moments you will have your Excel spreadsheet converted to a single page PDF. Now you can easily share it with anyone by email or another means of exchanging digital files, archive it or simply print a hard copy.
Users of our premium PDF Converter Elite 3 don't need to install the FreePDF Creator or any other piece of software on their computer, since PCE 3 already comes with its native, powerful PDF creation and virtual PDF printing capabilities. It is used in the exactly same manner as the FreePDF Creator, the only difference is that you need to choose PDF Converter Elite 3.0 Printer from the list of available printers.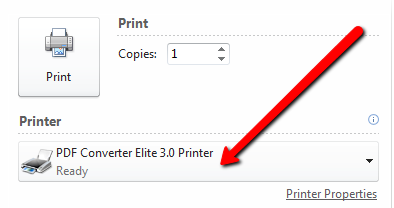 This handy tip may not be anything revolutionary, but it will certainly save you some time which you can spend  on more important activities and thus increase overall productivity.