PDF Converter Elite doesn't have the default crop feature but there are workaround ways to do the cropping with it. If you are a PDF Converter Elite user you would be delighted to know how to crop a PDF with our software. It is not hard to do it and you were actually using that secret feature all the time not realizing you can also use it to crop a PDF. Depending on what exactly you need to crop, a paragraph or the whole page, or the margins of a document, here we will share with you different ways to crop a PDF with PCE.
Select Area Feature as an alternative cropping tool
To crop smaller part of PDF content that is placed on one PDF page
When you are converting PDF files with PDF Converter Elite, you cannot skip the part when you need to select the document. Upon opening a PDF and choosing the type of PDF conversion, you need to select: the whole file, certain pages or area.
Select area option can actually be used to crop the PDF the way you need. If you want to remove some parts of a PDF document and those parts are not the whole page, but certain paragraphs, you can select an area of the document you want to keep or omit.
For instance, if you want to extract only a certain part of the PDF that is placed on one page, but it is not the whole, page, you can select the area, convert it to Word, and then back to PDF. In that way you will have a new cropped PDF.
On the other hand, if you want to keep a bigger part of the document but still need to crop some PDF pages, read the section above about Delete Text option.
Delete Text as another way to crop a PDF
Crop PDF file by deleting certain sentences throughout the document
As you probably know, PDF Converter Elite is a PDF editor too with the ability to edit PDF without conversion. Once you open a PDF file, click on the Edit menu and the sidebar will show up with a lot of different editing options. One such option is Delete Text which can come in handy when you want to crop PDF file.
If you need to get rid of some unwanted content in your PDF document, you can use this option to delete certain sentences or even whole paragraphs. Just click on the Delete button and then click on the area in the document which you want to remove. However, if you want to keep that content but not in the same file, it is better to extract pages from a PDF and save them in a separate document.
Resize Pages – Change the size of our PDF page
Remove the blank space in PDF document with Resize PDF feature
In the same Edit mode we mentioned above, you can use the Resize Pages button to crop a PDF file.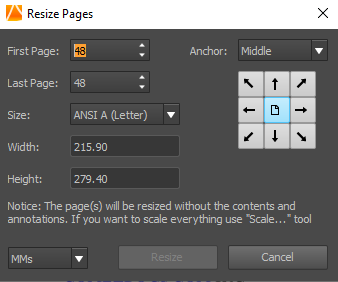 Select the page by clicking on it or typing the same page number in the fields First Page and Last Page.
Anchor settings refers to what is the most important part of your document from where you will measure the size. By default it is set up to be in the middle.
As for the sizes, you can either choose one from the Size drop-down menu by selecting the document type. You can also select the custom option and type width and height values. Once you click on the Resize button the page will look different, it will be cropped if you choose the smaller size of the default document size. However, you need to have in mind that if you choose the wrong height or width values it may not be cropped the way you wanted. That's why it would be easier to choose one of the sizes from the drop-down menu.
Conclusion
As you can see, PDF Converter Elite offers different ways to crop a PDF file, depending on your needs. While we are waiting for the real crop PDF feature to show up in one of the future versions of PCE, these three features will still do the trick.