General Settings Dialog
When you install the program for the first time, the General Settings dialog will pop up. There are two different settings: news and product updates and user feedback. All three boxes are checked by default. If you want to help us improve the software, leave the user feedback box checked.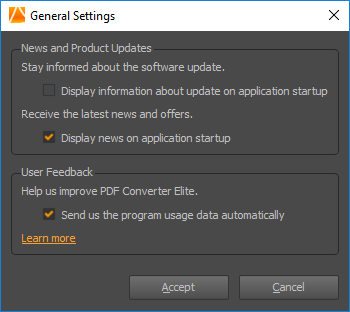 News and Product Updates
Stay informed about the software update – You can stay informed next time we update the software by leaving this box checked.
Receive the latest news and offers – In the same way, you can receive news about our special offers and limited-time discounts if you leave this box checked.
You can check for the updates any time by clicking on Help menu > Check for updates or Check the latest news.
User Feedback
Help us improve PDF Converter Elite by sending us the Telemetry Data Collection automatically.
The Telemetry Data Collection contains the following information:
Application version
License type
Version of Windows you use
Time zone
Locale
User's processes active on application startup
MS Office version
Number of CPU cores
RAM size
UI usage and and software performance
The Telemetry Data Collection doesn't include the usage of any personal data. It also doesn't include the names of the PDF files which were opened during the usage of the program. Also, the sending of the user statistics is absolutely anonymous.
Send Telemetry Data
Help us improve the priority of functions and improvements we need to work on by allowing that PDF Converter Elite automatically sends the Telemetry Data Collection.
Change General Settings
Click on the Help menu and then on General Settings. The same window will pop up- uncheck the boxes of the options you don't want to use any more.